Find Out How To Become Your Ultimate Self At The WorXout
Our vision at The WorXout is to create a heart-centered world filled with strong, fit people. Our SWELL lecture series will help you understand the what and the why so that you can get to making the how happen for yourself! We'll educate you on the science behind everything we suggest so that there is meaning behind the transformation process.
If you're in the Fort Wayne area and you're ready to make a real change in how you live your life, just fill out the short form on your screen to get started with The WorXout today!
Get Started With 7 Days of SWELL
We've developed the SWELL method around the 5 non-negotiable components for transformation, optimization, and purely loving your life. With these seminars, we'll help you become your ultimate self and show you how to be a part of SWELL Nation!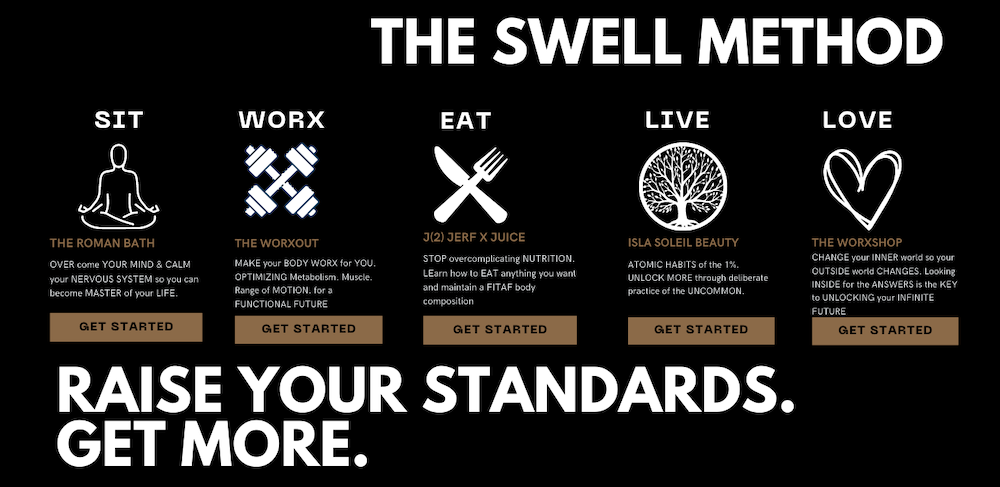 SIT
The foundation of SWELL was born of our core belief: How you WorXout = How you Live your life. The first aspect of SWELL addresses the way you carry yourself. We work on changing your posture to a "HEART FIRST" position which helps with deeper breathing, your presence in a room, how well your body communicates with itself, and everything in between. You don't have to become a yogi to master this attribute - consistency is key. It's time to BECOME YOUR GREATEST ASSET!
WORX(OUT)
The "X" in our name is not an accident. The X factor, the undefined variable, the part of the equation that you want to find out - we use X to mean that you are just as an important part to a workout as the exercises you perform. We'll teach you proven systems to keep your body guessing and growing from week to week. And we'll empower you to do it all for yourself through your own abilities.
EAT
This part of the Method is simple. We abbreviate it to JERF: Just Eat Real Food. What that means is we'll provide you with an accountability system to help you stick to a diet of fruits, veggies, meats, and eggs for a full 7 days so you can start to distance yourself from the unhealthy attachments you've made to some of the vices in your life. The crazy thing about this is that since you won't be relying on the foods you've been using and abusing, you'll start FEELING more truly the emotions you've been avoiding!
LIVE
Find out what your personal non-negotiables are. How do you wake up? How do you go to bed? How do you make sure that your basic needs are met day in and day out? Find out what you want from yourself and make it happen! Part of transformation is finding out how to best become the ULTIMATE YOU.
LOVE
Love is the final component and the true secret to success. Loving yourself, loving your family, and loving everything around you will turn the world into an expression of your life and intention. We'll give you tools to practice your intention with yourself and your family every day so that you can raise the standard of every room you're a part of.
SIT.WORX.EAT.LIVE.LOVE. With The WorXout in Fort Wayne
Our holistic method of developing your best self is making waves across Fort Wayne and we can't wait to help you become your ultimate self! When you take part in our SWELL lecture series, you'll get a crash course in what it means to be a member at The WorXout and you'll start inspiring those around you.
Just fill out the short form on your screen to learn more!